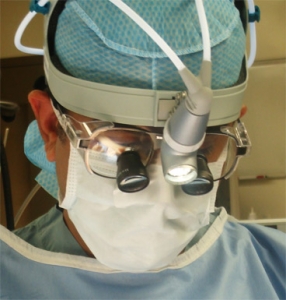 What is Minimally Invasive?
Minimally invasive spine surgery is about more than just the size of an incision.
Studies show that the paraspinal muscles contribute over 50% to the overall strength of the neck and the back, making them instrumental to recovery after spine surgery. Yet in most traditional surgical approaches to the spine, these muscles are painfully disrupted or peeled away from the portions of the spine they support.
Minimally invasive spine surgery is about approaching the spine through natural tissue planes with minimal disruption of these muscles, leading to shorter hospital stays and overall recovery times.
Dr. Bidiwala has been using minimally invasive technologies for spinal decompression and fusion operations since beginning his practice in Dallas in 2004. In addition, he has added several new technologies and approaches to his armamentarium as they have arisen in the years since. The result is that each patient is offered a customized minimally invasive approach depending on his or her anatomy, symptoms , and pathology.
Testimonials
"This is the first anniversary of the relief that your skill and hands brought to my back!"

Patient letter, March 2007

, Lumbar disc hernition, MIS-LMD
"Thanks for the prompt and perfect medical care. Every aspect has been, well, almost pleasurable. It's always a privilege to deal with the best."

May 2008, Patient letter

, Cervical disc herniation, ACDF
"Words cannot express my gratitude to you for saving my life. My wife feels similarly, sometimes."

Patient letter, May 2008

, Subdural hematoma
"I liked Dr. Bidiwala from the beginning, as he engendered my confidence, was easy to talk to, and – conservative. I am eternally grateful to him for seeing and allowing the chance for me to try physical therapy and avoid surgery."

June 2008, Patient letter

, Cervical disc herniation, physical therapy
"This October marked the third year since you removed a benign growth from my spinal cord. Because of you I completed my first marathon…and look forward to run my next marathon in under four hours. Thank you for making this possible."

October 2008, Patient letter

, Spinal cord tumor
"I did a lot of walking and climbing (during my recent trip) but had absolutely no problem with my back…You certainly relieved my excruciating back pain!"

March 2009, Patient letter

, Lumbar disc herniation, MIS LMD
"I wanted to thank you for restoring my quality of life. More than that, you have brought back my dignity. I remember the morning of surgery, when I was wheeled all over the hospital; you said that from that point on you would take care of me. You did exactly that, and for that I just wanted to thank you."

January 2010, Patient letter

, Essential tremor, Deep Brain Stimulation
"Dr. Bidiwala is by far the best neurosurgeon I have ever been to. He has a fabulous bedside manner, very knowledgeable, and answers all your questions. His staff is also fabulous! I would recommend him to anyone in need of his specialty."

April 2011, Online

, Cervical disc herniation, ACDF
"I was extremely pleased with both Dr. Bidiwala and his staff. He performed surgery on me … and explained all the steps to me in terms I could understand. I was scared about the surgery and his manner was so gentle … (and) very calming when I needed it so badly. I highly recommend him to anyone having thoughts of disc replacement surgery."

April 2011, Online

, Cervical disc herniation, ACDF
"Efficient and professional staff. Very personable and successful surgeon who makes you feel like you are his only patient"

May 2011, Online
"I am so appreciative that you decided to drop your engineering career in favor of specializing in brain surgery! Many others and I will never know how fortunate we are for that decision!"

July 2011, Online

, Brain tumor
"(Dr. Bidiwala) explains procedures well, answers questions, respects the patient"

July 2011, Online
"Found Dr. B to be very caring and knowledgeable in his field. Had a very successful experience with him. Would return to him if the need ever came again."

July 2011, Online
"(Dr. Bidiwala) is a very caring doctorl I recommend him to everyone I know. I can walk now because he and his chosen team did a great job."

September 2011, Online

, Lumbar instability, ALIF
"Before the fusion surgery I had pain in my legs and back. I thought I would have to stop working but now I'm back at work and pain is gone. Thank you Dr. Bidiwala"

September 2011, Online

, Lumbar instability, MIS-TLIF
"Dr. Bidiwala is the best doctor I have ever gone to. My minimally invasive spine surgery was a huge success and he explained everything that I asked to the fullest."

November 2011, Online
"I can walk again after my surgery with the XLIF procedure in 2011 by Dr. Shaad Bidiwala in Dallas. Thank you so much for giving me back the ability to walk a long distance. I had been told by another neurosurgeon that I was headed for a wheelchair the remainder of my life. I would do it all over again."

December 2011, Online

, Lumbar instability, XLIF
"I had a wonderful experience with Dr. Bidiwala & his staff. He is very caring, knowledgeable & very much a perfectionist. I had severe back pain for two years & he is the only one that actually helped me. His office staff are always polite & courteous as well. I would highly recommend Dr. Bidiwala to anyone who is in need of a Dallas Neurosurgeon. "

December 2011, Online
"Dr. Bidiwala and his staff are a pleasure to speak with and learn from. When I was having my surgery they were comforting, informative and patient with my family which I appreciate a great deal. My ongoing visits are always positive and I know I'm in good hands. "

February 2012, Online
"Dr. Bidiwala and staff are very knowledgeable and also very caring. I feel that Dr. Bidiwala takes personal interst in his patients.He truly cares for his patients and uses his God given talents to treat his patients according to their individual needs. "

June 2012, Online
"Dr. Bidiwala has an excellent bedside manner. He is very professional and explains everything to the patient in a a way that you can understand. His staff is very patient and handles any concerns. His Nurse Practitioner is very thorough. "

June 2012, Online
"we would rate his services a+ and his care excellent. the hospital facility was also excellent "

July 2012, Online
"I was very pleased with Dr. Bidiwala and his staff, and would definitely recommend him to friends. "

September 2012, Online
"I had a herniated disc in my neck that was protruding into my spinal cord with  numbness in my arms and hands. Dr Bidiwala worked me in to be seen on a Friday  and did surgery on Saturday. His office staff was wonderful, the hospital stay  was the best I have ever had. I would and have recommended him to everyone!"

May 2013, Online
"Had 3 ruptured disk surgeries. Bidiwala did two of them. Best Doc, Best Team,  Best Hospital – Baylor.  You found Gold here. He is a 5 Star."

June 2013, Online
"After having occasional numbness in my legs, I decided to have an MRI as  suggested by my family physician.  The diagnosis was two cysts in my lower back.  My neighbor was a former patient of Dr. Bidiwala and recommend him.  My initial  appointment was very enlightening.  My wife was with me and we were both  impressed with Dr. Bidiwala and his staff.  The doctor reviewed my MRI and went  to great length explaining the procedure to remove the cysts.  An operation at  Methodist Hospital completed with great success."

June 2013, Online
"Dr. Bidiwala knew I needed surgery, but there were several areas of concern.  It  took a while, but he narrowed it down to one area. I did have surgery and am  doing well. Thank you   Dr. Bidiwala and your staff for giving me a quality of  life beyond my expectation."

January 2014, Online
"I would definitely recommend Dr. Bidiwala to anyone!  I have used him twice and  his procedures were very successful. He is a GREAT Neurosurgeon!"

September 2015, Online
"Dr. Bidiwala is the best!  I have referred several friends and family members to  him.  I've had 2 surgeries and my husband has had 1, and all have been very  positive experiences because of Dr. Bidiwala."

November 2015, Online
"I was in pain, and Dr. Bidiwala didn't take long to find out cause. I had my  surgery shortly after my diagnosis. And was feeling better and own my way. Dr.  Shaad Bidiwala is REALLY a nice doctor & explains things to you to where  'You' can understand. I always felt "taken care of". His office is clean &  the staff are all caring as well. Easy to make appointments, you're in & out  fairly quick- but with no short cuts to your well-being. I HIGHLY recommend this  doctor.  :and he's on the eye: haha A Great Doctor overall.  Thank to his team & you, Dr Bidiwala."

December 2015, Online
"Every thing could not have run smoother."

February 2016, Online
"Would and have recommended Dr. Shaad Bidiwala to anyone having back issue. He is  honest and lays everything out there and makes sure you understand of the  procedure he will be doing or what he suggest. Had met with 2 other doctors and  Shaad Bidiwala has the best bed side manners and had my interests at heart. Dr,  Bidiwala came highly recommended to me and now I understand why."

March 2016, Online