Emerging technologies are at the center of minimally invasive surgery. It should come as no surprise that we devote a great deal of time looking for and learning about the "latest and greatest" technologies in neuro- and spine surgery. These technologies ultimately allow our patients to heal, recover, and get back to the their lives as quickly as possible. Here are just a few of the breakthroughs that we regularly use in our practice:

Neurovision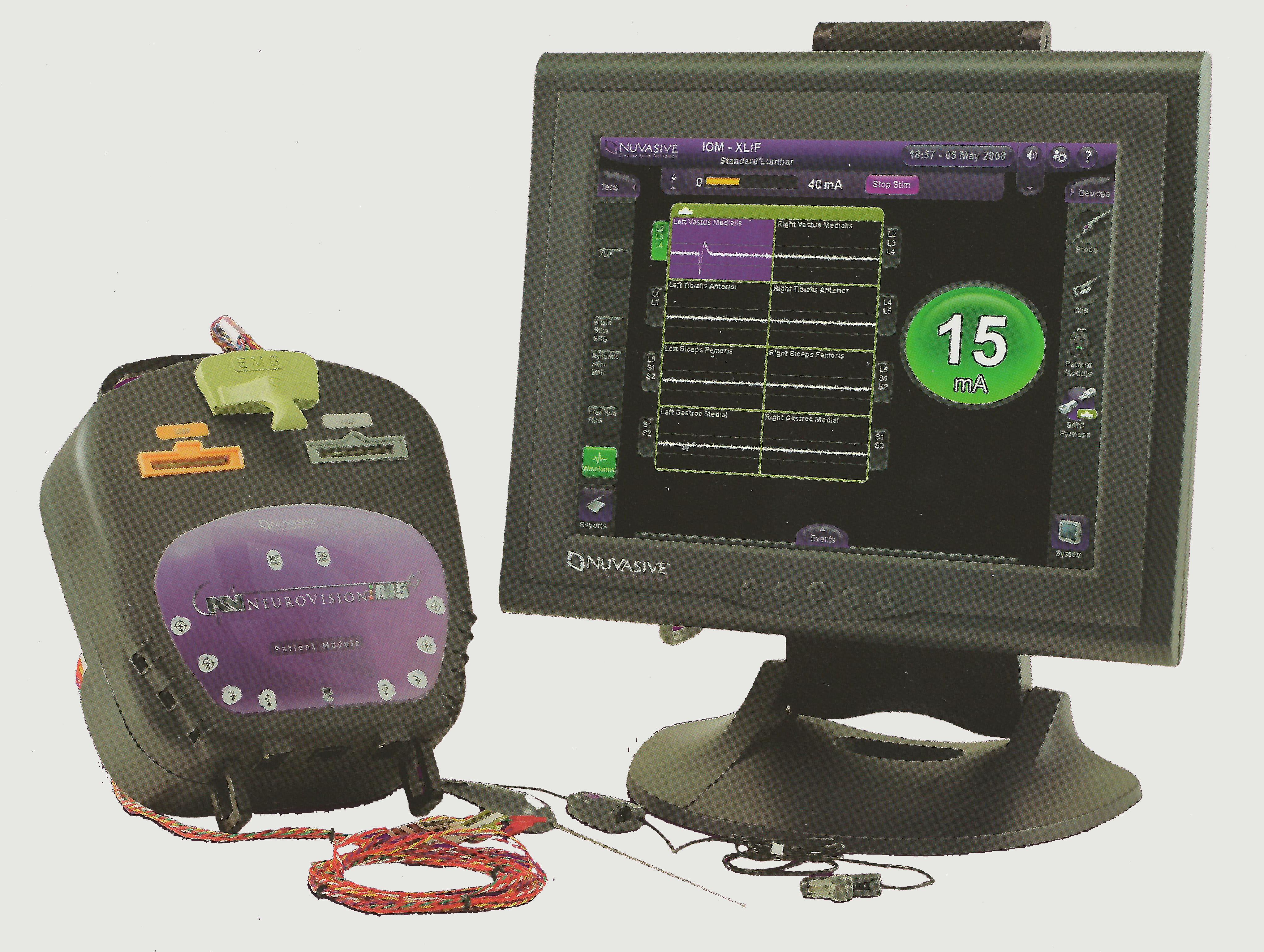 One of the risks of any type of spine surgery is injury to a nerve either directly with an instrument such as a scalpel or an electrocautery, or indirectly by the placement of a screw near a nerve.
Neurovision is an innovative technology introduced by Nuvasive (San Diego, CA) that allows us to continuously stimulate screws and instruments with an electrical current, up to five times a second, while they are being used. If a nerve is contacted by a screw or instrument during surgery, Neurovision alerts us to stop and re-evaluate our trajectory. This allows us to perform minimally invasive with the lowest possible risk to nerve roots.

Spotlight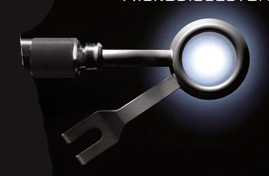 In spine surgery, retractors must be used to keep muscles away from bones and ligaments that must be removed. Traditional retractors use two blades that retract from side to side, creating a rectangular exposure. Tubular retractors allow, however, for the most efficient retraction of muscle, because they create a circular exposure, thus exposing the most area for the size of any given incision.
The Spotlight retractor by Depuy (Raynham, MA) not only is tubular, but connects to a high intensity light source that provides superior visibility. We commonly use this retractor for minimally invasive discectomies and laminectomies.

Three Degree Cervical Plate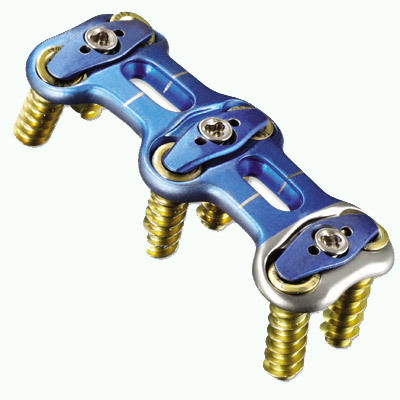 The risks of cervical fusion procedures can involve injury to structures adjacent to the cervical spine, including the esophagus, trachea, and carotid arteries. Additional risks include backout of screws used to fasten the plate to the front surface of the cervical spine.
The titanium Three Degree plate by Orthofix Spine (Lewisville, TX) incorporates several design features meant to minimize these complications. An innovative drill and screw guide effectively retracts soft tissues near the plate while holes are drilled into the spine and screws are delivered. Holes in the plate allow us to see the vertebral bodies behind the plate allowing us to place it correctly. Finally, locking plates that fit over the screws prevent them from backing out and causing injury to normal structures after the plate has been fastened.

Zero-P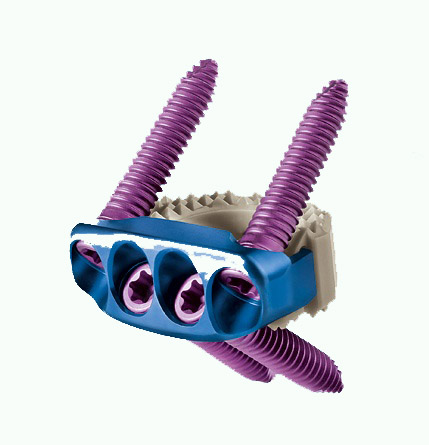 Cervical fusion surgery typically involves the placement of a plate on the anterior surface of the cervical spine. In very thin patients, the "profile" of the plate can sometimes be felt by the patient when swallowing.
Synthes Spine (West Chester, PA) was one of the first to develop a "zero-profile" plate, the "Zero-P", which cleverly fits between the vertebral bodies instead of in front of them. Screws to fix the plate to the vertebral bodies go through the plate and are recessed within it.
We typically use the Synthes Zero-P in thin patients whom we suspect may not tolerate a typical cervical plate.

O Arm/Stealth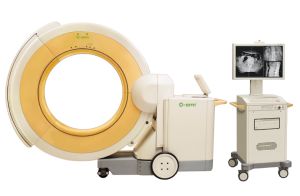 During complex instrumentation and fusion surgery, sometimes it becomes necessary to be able to view the trajectory that a particular screw will take before even placing it, just to make sure that it is placed in exactly the correct location.
The "O Arm" by Medtronic (Minneapolis, MN) is an imaging station that allows us to take live CT scans before, during, and after surgery. We use these scans along with Stealth image guidance software to aim our screws during a surgery. After we are done, we are able to verify that all screws have been placed appropriately.
Kyphon Inflatable Bone Tamps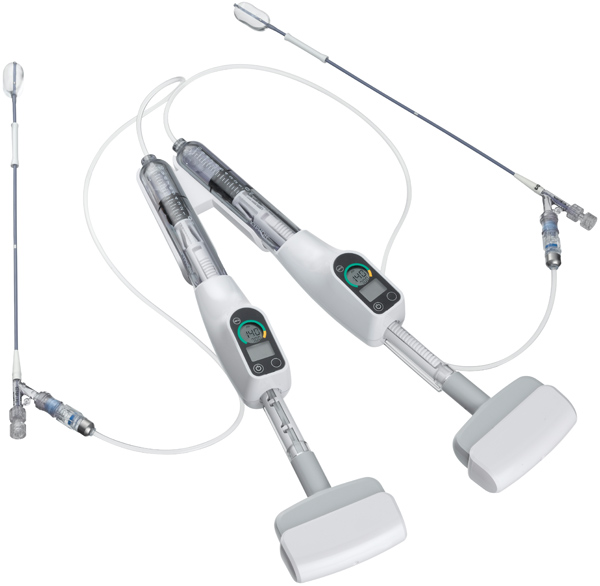 Vertebroplasty is a commonly used method of addressing vertebral compression fractures by injecting a bone cement called methylmethacrylate into them. The cement not only "glues" fracture fragments together, but also destroys pain fibers within the bone by releasing heat while setting.
Kyphon (Sunnyvale, CA) revolutionized the treatment of vertebral compression fractures by introducing a procedure called "kyphoplasty", in which a balloon or an "inflatable bone tamp", is used to expand, or "reduce", the fracture before the bone cement is introduced. Since their introduction, Kyphon IBTs have undergone several changes making them suitable for a wide variety of fracture configurations. We use them exclusively for all of our kyphoplasty procedures.
X-Stop Interspinous Spacer Device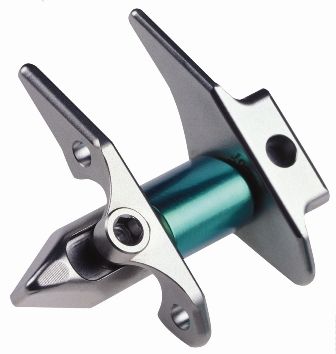 Interspinous spacer devices are used for patients who have lumbar stenosis with back and leg pain (neurogenic claudication) that resolves with bending forward, or "flexion". They are implanted between the spinous processes of the spine at the affected level, thus causing a patient to be (unnoticeably) "bent over" at that level.
The X-Stop was one of the first interspinous spacer devices approved by the FDA, and had been quite effective in several of our patients. Versions of the X-Stop made with non-metallic components are now available and may prove useful in patients with softer bone.